Embedded laminate film is an embedded laminate solution, commonly used by card manufacturers for the mass production of cards. Laminate the optical security film together with a multi-row card and chip, then the optical image is embedded in the card body using the large lamination equipment.
In this way, while being anti-counterfeiting, it can also have a longer service life, and the holographic color is also more durable. Therefore, embedded laminate films are a very reliable solution for protecting data on ID cards.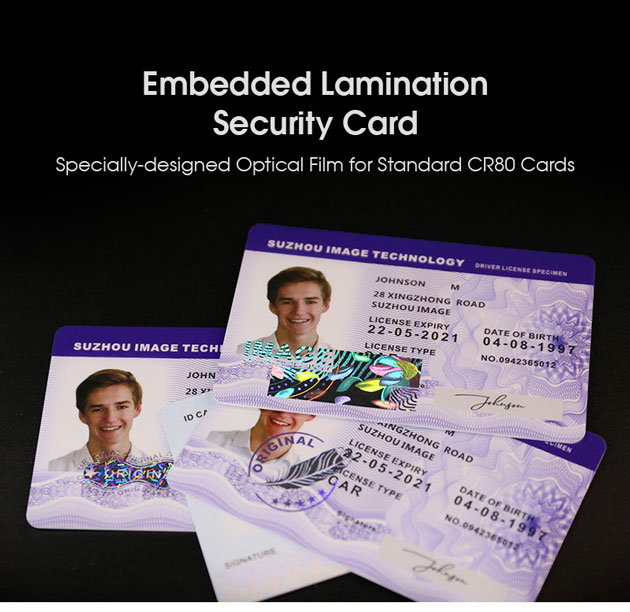 Suzhou Image is a professional factory that supplies physical security solutions for protecting various ID cards, passports, driver's licenses, and other government projects.
Recently, we have received inquiries about optical embedded film. The following are four issues that customers are generally concerned about. I hope this can provide you with some help when choosing a card solution.
1, What's the thickness of the embedded laminate film?
The general thickness of the embedded film we provide is 0.06mm(coated with glue). Customers do not need to do any processing and can just laminate it directly.
2, Can the holographic image cover the entire ID card?
The optical embedded film is usually made into a partial anti-counterfeiting pattern due to the special coating in the security pattern area. If the embedded optical layer covers the entire ID card, the bonding fastness after lamination is not very good. The peel strength cannot meet the ISO standard.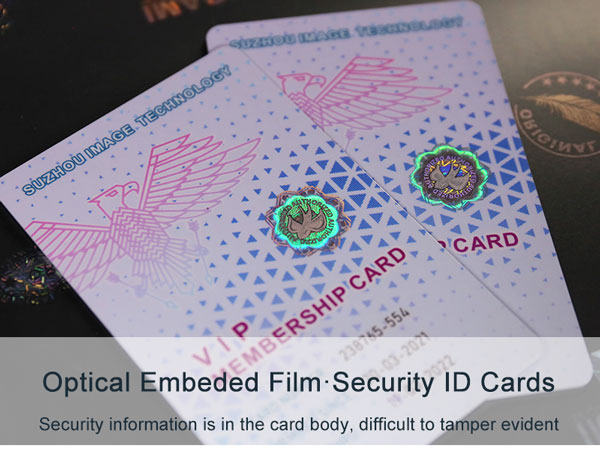 If it is used for short-term activity projects, there is no requirement for adhesion fastness, it can be considered. As an identity solution supplier with more than ten years of experience in anti-counterfeiting, if you are interested in security patterns on your whole ID card surface, we recommend you use seamless transfer overlay or hologram patch laminate.
Recently we wrote an article about anti-counterfeiting on the entire ID card surface. Hope to give you some guiding suggestions.
3, Which kind of card substrates can use optical embedded film?
The optical embedded film is compatible with kinds of card bodies, such as PVC, PETG, PC, etc. They are mostly used for government projects, including ID Cards, Bank cards, Driving licenses, and so on.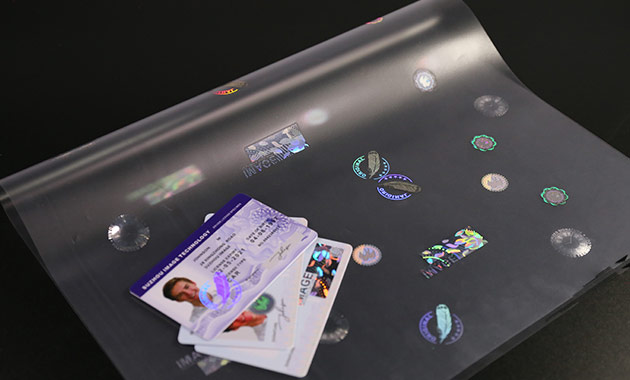 Unlike PC, PVC and PETG material embedded laminate films need to be coated with glue before lamination. Support customized overt, covert, and forensic anti-counterfeiting technology. Available to customize different layouts, like 2*5, 5*5, 3*8, 4*8, etc.
If you want to know more introduction about card substrates, you can click the article Which card substrates work best with security embedded overlay?
4, Supply form of embedded laminate film?
We have two supply forms, one is to supply finished cards, and the other one is to supply embedded laminate film according to customers' layout requirements. Optical images, anti-counterfeiting technologies, and metalized layers both are available to customize.
If you have other questions about the optical embedded film, please contact us. Our professional team will provide you with the best solution.