With the development of the market economy, people's living standards have also been greatly improved, and consumers have begun to have higher requirements for product quality and product safety. Many companies start to use hologram security labels in order to protect their brands.
While good products are sold to the market, they also face the possibility of copy and piracy and then misleading consumers. Counterfeit products damage the interests of consumers, and more importantly, damage the social credibility of the brand itself.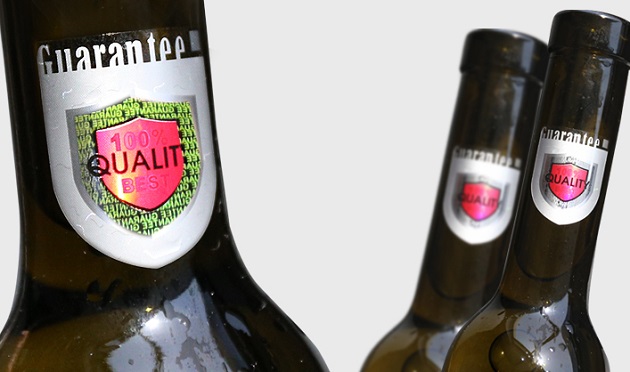 At present, companies that have a certain scale of development and development prospects in the industry will choose to provide anti-counterfeiting protection for their products. Ensuring product quality, safety, and brand reputation is an inevitable choice for the development of a company's brand. The meaning of holographic security labels is an effective means for companies to protect their brands.
Which industries can use Holographic Security Labels?
Currently, security holographic labels are used in various industries, and a brand protection habit has been formed, and the technology and form of hologram labels are becoming more and more personalized and functional.
An exquisite sticker can increase the aesthetics of the product packaging, and can even become a highlight on the packaging and increase the marketing power of the product. So what kind of industries will use this hologram security label?
| | | | |
| --- | --- | --- | --- |
| Medicines, health products, | Maternal and child products, toys | Food, non-staple foods | Clothing, textiles |
| Auto Parts, Motor Parts, | Electronics, Electrical Appliances | Hardware, Building Materials | Beverages |
| Tobacco, E-liquid | Cosmetics, Skin care products | Daily necessities | Cultural publishing products |
| Special agricultural products | | | |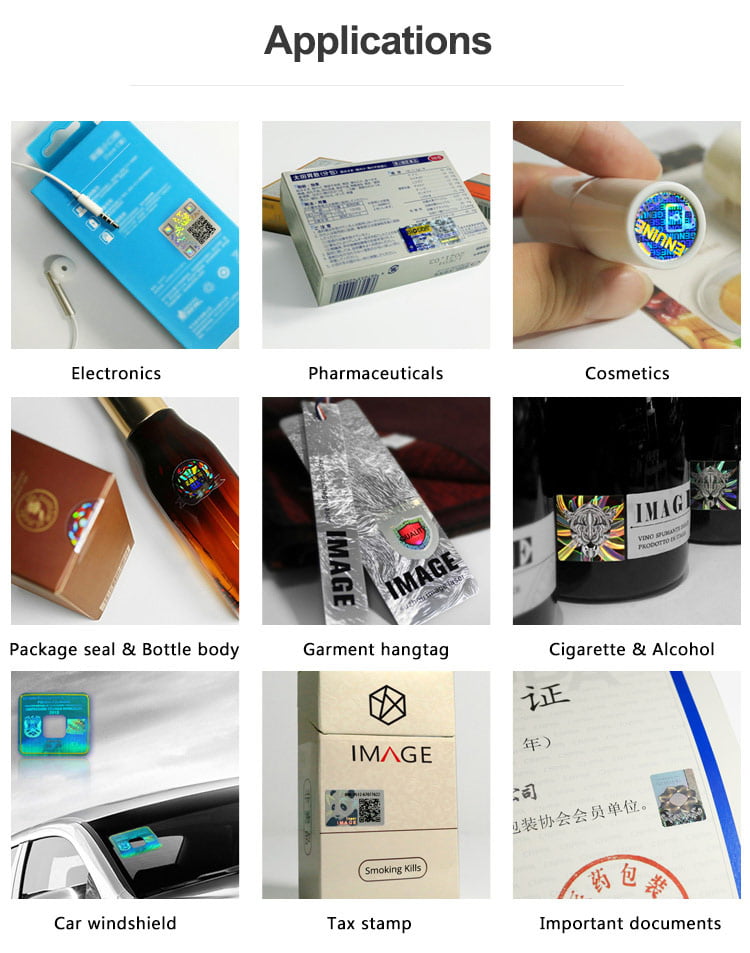 The related industries mentioned above are most of the areas where security hologram labels are currently used. The wide application has further ensured our consumer safety and has also given people a newer understanding of security technology, which helps consumers to distinguish products that are mixed.
Anti-counterfeiting is a protective measure for those activities that are imitated or copied for the purpose of deception without the permission of the owner. The security features and identification methods of security stickers are the souls of this kind of stickers.
Brand enterprises also need to pay attention to the fact that in addition to the functions of anti-counterfeiting labels, companies should also pay attention to visual design. These stickers can be combined with own company's brand logo, corporate image, product packaging, and other elements. They should match the characteristics of your own products.
Suzhou Image Technology Co., Ltd has been focusing on the security hologram industry for 20 years, it is a high-tech enterprise in Jiangsu Province. Our company has been focusing on the design and research of micro-nano structure optical color rendering technology with laser holography as the core for a long time.
We have a number of independently developed micro-nano structure processing equipment and software core technology, and has obtained dozens of national invention patents in many fields, established a complete and standardized manufacturing system, and provided anti-counterfeiting technology and anti-counterfeiting product services to many well-known domestic and foreign brands.
We not only provide a variety of anti-counterfeiting products but also provide many well-known companies with technical services supporting such as personalized anti-counterfeiting design, product security traceability, material adaptability testing, etc.
So, which industries really don't need anti-counterfeiting at all, please leave a message below to discuss with us! When all industries do not need anti-counterfeiting, we believe that it will be a bright future world.