The holographic laminate overlay is designed to protect the personalized data of documents and IDs from tampering and forgery. It is a transparent holographic protective layer applied to the surface of ID cards and important documents. In addition to preventing forgery, the holographic layer also has high abrasion scratches.
Currently, ID cards with photos can be printed using existing ID card printers. In addition, some scanners and copiers can copy any card with built-in security features. These common production methods make certificate products threatened by forged ID cards.
The hologram laminating overlay developed by Suzhou Image can easily detect fake ID cards and protect ID card products from forgery.
In terms of application methods, we have developed a total of 3 types of id holograms, namely patch-type lamination, heat transfer, and embedded-type.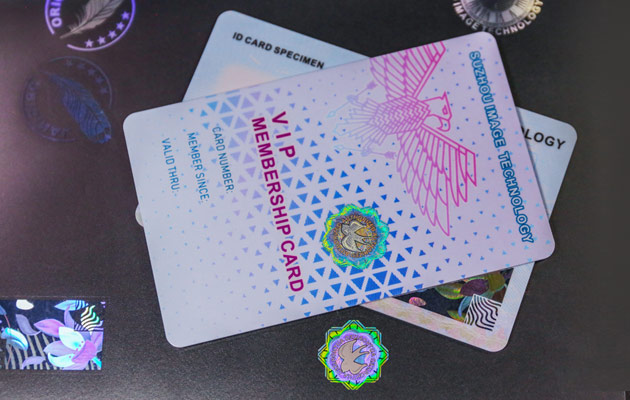 According to the current market, the security embedded overlay will be a development trend in the future and will be applied to more and more IDs, driving licenses, and documents.
There are still some projects in use for holographic transfer overlay, but because it transfers the holographic layer to the document, although the surface is protected, its scratch resistance still needs to be considered.
At present, many shops and small businesses mostly are using hologram overlay stickers. They usually appear on employee cards, membership cards, and business cards. And the stock version is used the most, a few projects are customized.
Generally speaking, for heat lamination and heat transfer products, more customizable elements are needed. Because most of them are government projects, of course, some commercial projects also require customization. We also published an article on why to use custom hologram overlays. If you are interested, you can learn more.