The holographic cold laminate overlay is a clear optical anti-counterfeiting film with viscous pressure-sensitive adhesive on the back. It's also known as a self-adhesive hologram overlay or large-size holographic overlay sticker. Even some people call it a peel-and-stick label.
It can be used for various printed plastic cards, membership cards, and staff IDs, and offers an easy way to increase the security and durability of your ID cards without the need for any laminating equipment.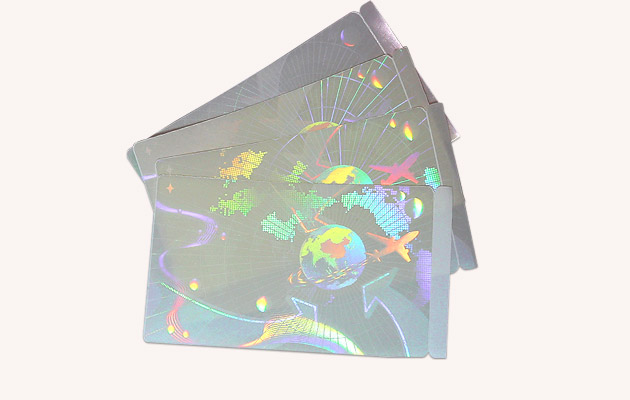 Application of the Optical Cold Laminate Overlay
In many ID hologram overlays, the optical cold laminate overlay is the quickest and most affordable way to add visual security to a variety of cards.
It is pre-die cut into the shape of the card body (about 1mm smaller on each edge than the standard CR 80 Card). It can be attached to the surface of the ID card base by hand easily, very convenient.
Thereby it is very suitable for remote areas or temporary offices, it's manually and widely used for border areas, nomads, villages, and other places, where has no stable power supply.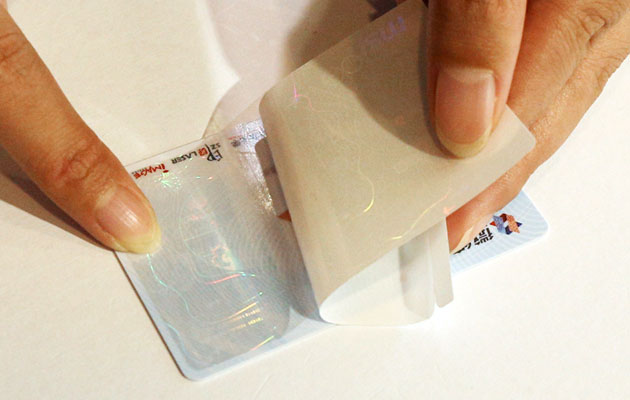 Specifications of Holographic Cold Laminate Overlays
| | | | | |
| --- | --- | --- | --- | --- |
| Size | Thickness | Color | Supply form | Packaging |
| 52mm*84mm | 30um | Transparent | In sheet/roll | 100pcs/bag |
Types of Self-adhesive Holographic Overlays
In order to meet specific requirements, the self-adhesive holographic overlay can be customized or generic designed. The custom design is made specifically for you, and the general design is suitable for everyone.
At present, Suzhou Image Technology has developed some generic design hologram self-adhesive overlays, which are very popular in the market. They have better transparency and basic anti-counterfeiting features.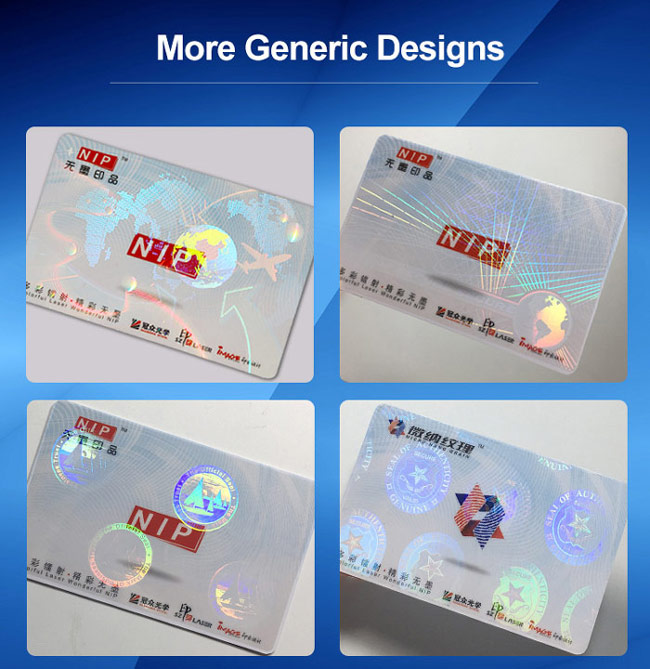 These overlays are currently in stock and you can order directly. Of course, we can also customize according to your own pattern, this kind of MOQ is slightly higher.
After several hours of lamination, the clear hologram cold laminate overlay can work well with the ID card. It will not come off easily and protect personal information from anti-counterfeiting and tampering. Good transparency ensures that personal information will not be covered up and is easy to identify.
How to Manually Apply Hologram Overlay Stickers to Cards
Peeling one angle of hologram overlay stickers from silicon paper, alignment the overlay and ID card position slowly, then peeling off silicon paper while laminating the overlay with cards, till the overlay film covers the whole card.
Usage Advice of Security Cold Laminate Overlay
| | |
| --- | --- |
| Operational environment | Ensure clear card surface, stick it at normal temperature |
| Preservation environment | Ambient temperature 20°C – 30°C, Humidity 45%-60% |
| Executive standard | GB/T 4851-2014 |
| Based card | PVC/ PETG/ PC |
| Common problem | 1, Deviation between security cold laminate overlay and card 2, Dust on the card surface causes poor binding force, bubbles, and bumps |