Tamper evident hologram stickers are a great way to prevent the label from being misappropriated and combat counterfeit products.
It's mainly divided into five parts: base film layer, release layer, microstructure later, adhesive, and release paper layer. Tamper evident, as its name implies, realizes the anti-counterfeiting effect by uncovering the surface layer. It has strong anti-counterfeiting properties, features that are difficult to imitate, non-transferable performance, and eliminates fraud.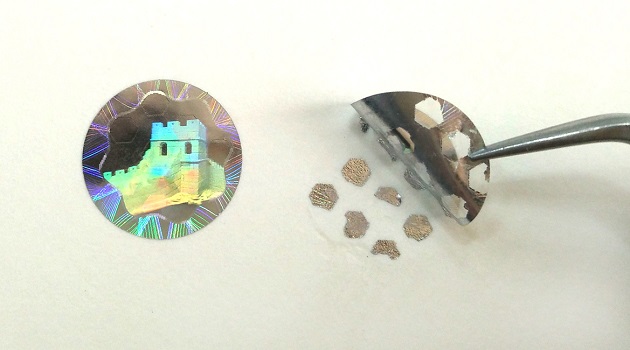 The production of tamper evident hologram stickers is a material-based anti-counterfeiting method. If the label is uncovered, the pre-set text or pattern will be separated from the surface material, such as: "VOID", "unsealed", "opened" And other words, and stay on the object to be posted, so as to achieve the purpose of fidelity and provide the function of automatic inspection.
Here are five important features of tamper evident holographic stickers.
1, Security
The unique tamper-evident feature reduces the possibilities of tampering and counterfeiting, preventing important documents, brands & products from forgery.
2, Works well on various substrates
They can be used on paper, plastic, glass, and other items to secure & authenticate products.
3, Easy to identify
People can verify the genuineness of the product they purchase by the sticker and judge whether it's an original one. Meanwhile creates goodwill among customers and gives them a sense that the absence of the tamper-proof sticker is evidence of it not being genuine.
4, Multi-tamper evident designs
The destructible pattern can be VOID, Honeycomb, Dots, or Anti-tamper cutting, Further, it can also be in customized design.
Application of tamper evidence hologram stickers
Tamper evidence hologram stickers are mostly used for warranty seal and quality inspection. They are applicable to many industries.
Brand Package
Pharmaceutical Industry
Automotive Spare Parts
Electronic Accessories
Sensitive Documents
Cosmetic and Personal Care Products