Holographic pigment manicures must be familiar to girls who love beauty. Spring is coming, and little fairies can embrace spring with a shiny and fresh holographic glitter pigment on their nails. Today I will show you how to make a beautiful and shiny manicure with it step by step.
First, Introduce the Features
Currently, the holographic powder launched by our company has been widely used in different fields in the market. They use imported film substrates, go through strict and complex production processes, and then divide them into different specifications by sieve classification or specific gravity extraction method.
If you want to make a nail with a special pattern or cat eye effect, you need to use our new version of holographic magnetic pigment. The magnet powder is clear and delicate, It can display different colors and 3D effects (cat eye) in the micro-nano structure, and the increased magnetic function is also a highlight. Good solvent resistance and temperature resistance make it more widely used.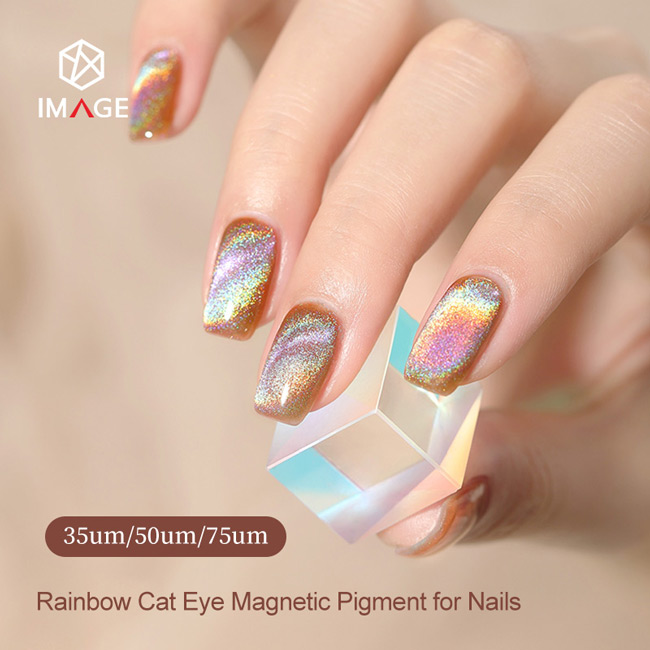 Taking the beauty industry as an example, the combination of magnetic laser powder and manicure is very popular among the public. The editor teaches you that with just a few(five) simple steps, you can make beautiful manicures by yourself at home.
Second, How to Use Magnetic Holographic Powder on Nails
The first step is to polish and trim the nails with tools such as nail scissors, sponge rubs, etc., and wipe clean with alcoholic cotton pads.
The second step is to use a high-quality nail base oil and apply it thinly and dry it. This base oil can form a protective barrier for the nails.
The third step is to choose the color of nail polish you like and apply it evenly. According to your personal color preference, you can apply it thinly or in layers, and then let it sit and wait for it to solidify.
The fourth step is to use the eye shadow sponge brush to dip a small amount of optical holographic pigment with magnetic features and gently wipe the nail surface. It is good for full or gradient applications.
The fifth step is to apply the sealing layer and then dry it, and you're done. The sealer makes the nail firmer, it also adds durability and it also looks brighter.
The base color is icy and pink, plus the sparkling sparkle, like neon, like a starry sky. In the sun, the lights are very exciting. If you want to make a cat eye effect, you need to use a magnet to gently suck the pigment to make 3D effects such as aperture and cat's eye.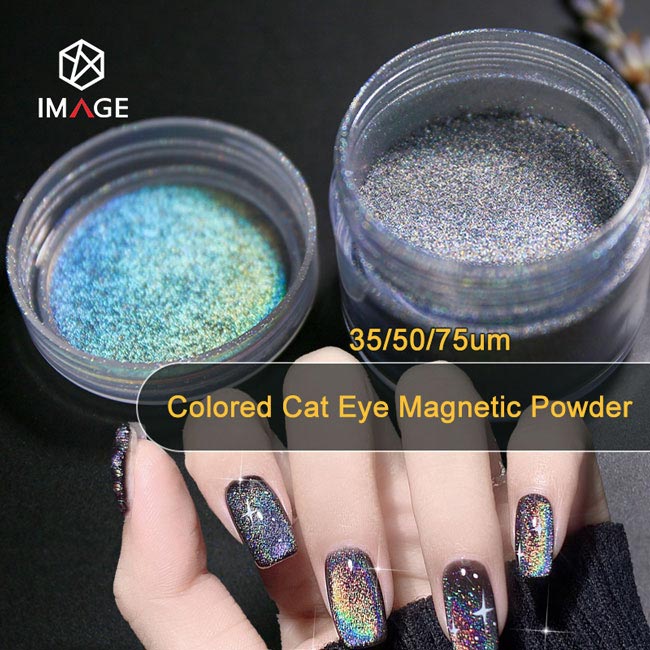 In order to take into account the magnetic and optical effects, the magnetic holographic powder we currently launch is mainly 35um, 50um, and 75um particle sizes. The larger the particle size, the better the optical color effect, and the smaller the particle size, the better the magnetic effect. Need to choose particle size according to your own demands.
In addition to being used in nail art, our holographic pigments can also be used in cosmetics, printing and spraying, car clothing, decorative parts, and many other industries. As a high-tech enterprise, Suzhou Image will continue to focus on technological upgrading and process improvement, and launch more high-quality series products.