Lamination is the production process of laminating a clear protective layer to a variety of ID card materials, event credentials, and documents to provide personalized protection. Typically, these IDs are printed with personalized data, photos, and numbers, and lamination protects personalized information from tampering and prolongs its service life.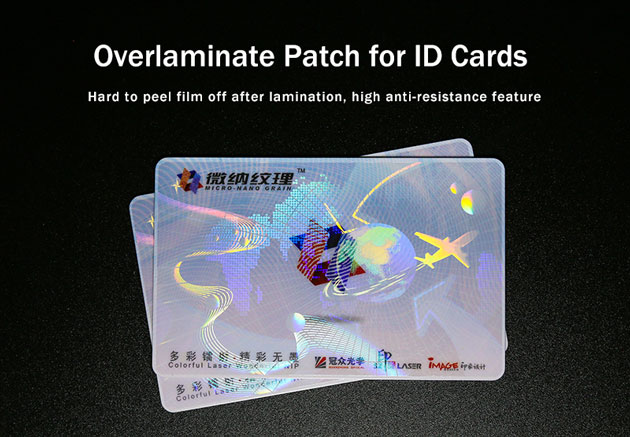 There are two forms of lamination on the market, one is ordinary clear lamination, and the other one is holographic lamination. Suzhou Image specializes in the development and research of ID card hologram laminate solutions. Here, we will provide optimal solutions and suggestions based on each customer's requirements.
Benefits of Using Laminated ID Cards
There are actually a number of valuable benefits to laminating hologram images on your ID cards. It's a great way to protect your printed cards, ID program, and even your organization.
Hologram lamination improves ID card security
Holographic images can be applied to your ID cards quickly and easily by using a laminating card printer, with lamination typically occurring after the card is printed.
In order to improve the security of ID cards, some overt, covert, and forensic security features can be embedded in the holographic image to prevent ID cards from being defrauded and forged.
Lamination makes your cards more durable and protects them from daily wear and tear
Lamination means adding a protective layer to the surface of the card. This protective layer can prevent the personalized information on the card from being scratched or worn away, thereby affecting the service life of the card.
Lamination gives your ID card a more professional and attractive look
Laminated layers can come with your own logo and custom images for a more professional look. Colorful hologram images present dynamic, 3D effects, which are very shiny and attractive.
How to laminate ID cards with holograms
Laminating a hologram onto an ID card requires a special laminator. Here is a demonstration video to help you better understand this process.
First of all, we need a roll of security hologram overlay, and cards with personal information that has been printed, such as our photos, names, and dates. We also need a laptop, and the most important one is the laminator.
Before lamination, we can set parameters on the laptop. We know that for lamination different types of cards and different printing on the card, the lamination speed, temperature, and position are different.
There is a special laminating program on the computer that can set the laminating speed, temperature, and left and right positions. After setting these parameters, you can directly laminate.
ID lamination requires the use of special ID card laminating equipment. ID lamination requires the use of special ID card lamination equipment. We have an article explaining why special equipment must be used, click Why does ID Card Hologram Laminate Require a Special Laminator. Put the card with printed personal information directly into the card input area.
Three common types of holographic laminates used on ID cards
There are three very common holographic laminate solutions for ID cards, today we will introduce their differences and what kind of projects are they suitable for. How to choose?
Holographic thermal transfer laminate
Thermal transfer holographic laminate means only transferring the holographic image to the surface of the ID card, and the base film is peeled off. The advantage is that the optical image is sized to cover the entire ID card from edge to edge, making it appear to fit.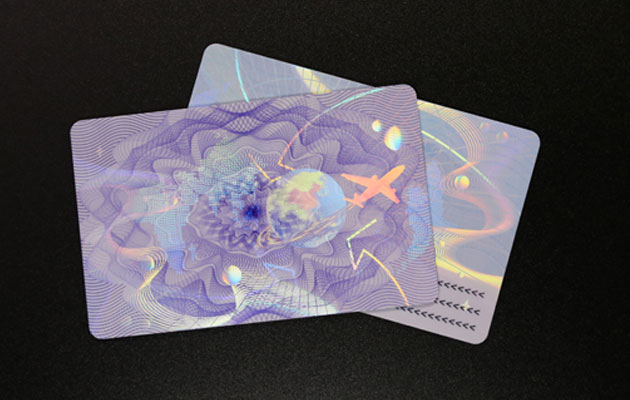 Since there is no base film protection, the scratch resistance is not as strong as the patch film. However, there is a special coating on the surface of the holographic image, which can extend the service life of the ID card to a certain extent.
Surface-applied patch films
Surface-applied patches have two layers, the patch film and the base film. After attaching the patch to the ID card, peel off the 50um base film. Because it adds an extra layer to the surface of the ID card, it makes the card more scratch-resistant and increases the card's durability. Multiple optical security elements enhance card security by preventing counterfeiting.
Hologram laminated pouches
What you may see more often is that hologram pouches are used as venue passes for various event credentials. Additionally, they are widely used in ID card and driver's license projects. These pouches come in common ID card sizes and are usually made from PET and EVA.
The whole lamination is very quick and simple, insert the ID card into the pouch and go through the specialized ID pouch laminator. ID cards become rigid after lamination, anti-tampering, and waterproofing.
If you have any questions about laminated ID cards, please feel free to contact us!